Sram Eagle Oval Direct Mount Chainring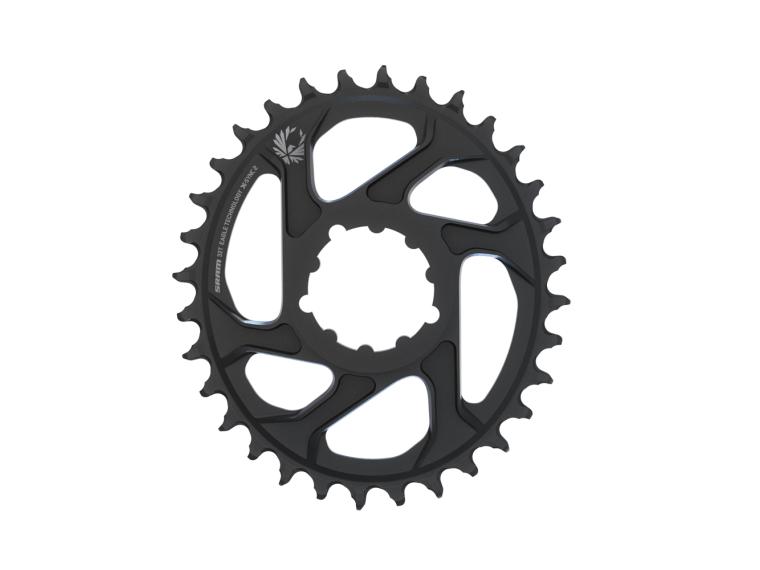 ---
---
Free tracked delivery to Finland
Trustpilot review 9.2 out of 48.652 reviews
---
Specifications
Specifications
| | |
| --- | --- |
| Brand | Sram |
| Number of gears | 12 speed |
| Crank Type | Single |
| Chainring Type | Single Ring |
| Colour | Black |
Description
Description
The Sram Eagle Oval Direct Mount 12-speed chainrings feature the X-Sync 2 technology. The Oval version creates a more supple pedalling motion as you ride your mountain bike. The X-Sync 2 is Sram's name for the latest version of the narrow-wide teeth design. The teeth have been raised and slanted in all directions. This should lead to the chain running considerably quieter while reducing friction at the more extreme chain angles. Parallel to the optimisation of the chain ring tooth design, Sram has also worked on the chain itself with the same goal in mind: creating a quieter drivetrain. The inside of the inner links is fully rounded. No more sharp edges. This offers more free space and makes it easier for the chain to catch and release onto the chainring.

Oval chainring
These oval chainrings have an 11% alternation. This means that the 32 T version has a minimum gearing of 30 teeth and a maximum of 34 teeth. Every pedal stroke encounters a dead point. This is where the cranks are perfectly vertical. You can't exert any meaningful power at that point, so you'll want to get past it as quickly as possible. Oval chainrings have fewer teeth at this point, allowing you to get through it quicker. They then provide you with maximum gearing during the part of the pedal stroke where you can provide the most power. This theory helps you get through the dead spot quicker, meaning you loose less power when you try to reach your optimal power band. This increases your pedalling efficiency, and reduces the amount of lactic acid you produce as well as your fatigue levels. The chainring has an 11% oval shape, which takes a few days of getting used to. Once you have, you'll only be able to ride harder!
---
---
---
Reviews
Reviews
---
Pros
There are currently no pro's available in English yet
Cons
There are currently no cons available in English yet
---
Most recent reviews
Super priser
Lyn hurtig levering. Og super skarpe priser
Pros
Hurtig levering
Skarpe priser
Positief verschil met rond tandwiel
Duidelijk merkbaar verschil met het traditionele ronde tandwiel. Gevoelsmatig is het zelfs zo dat het 34t blad aanvoelt alsof je een 32t blad rijd.
Pros
Minder kracht nodig
Makkelijk te monteren
Voelt als een kleiner tandwiel
Voelde direct goed.
Ben er mee gaan rijden en het voelde meteen goed. Ben er dus zeer content mee.
Pros
Klimmen gaat veel beter.
Minder snel vermoeid.
Gewoon goed.