SKS Hose E.V.A. Head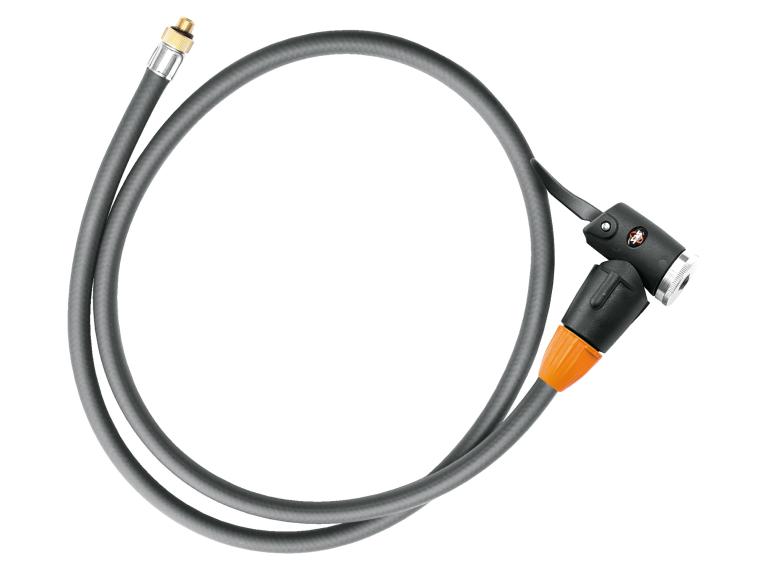 ---
Currently out of stock

Expected: Delivery date unknown
---
Free tracked shipping over £35.00
Trustpilot review 9.3 out of 44.168 reviews
---
Description
Description
SKS pump hose with E.V.A. head, suitable for every type of valve. The hose has a length of 125 centimeter.
---
---
---
Reviews
Reviews
---
Pros
There are currently no pro's available in English yet
Cons
There are currently no cons available in English yet
Most recent reviews
Martijn, 19 February 2019
Past gewoon op mijn 20 jaar oude pomp
Pros
Goede kop voor op het ventiel
Prima pomp
Ik heb een SKS baanpomp uit 1995, en dit is mijn derde slang. Uiteindelijk slijten de pomp-rubbers in deze slangen, en Mantel heeft de rubbers voor deze slangen! Ik heb er dus meteen twee reserve pomprubbers bij gekocht en kan er tot 2035 (?) weer tegenaan! Dit is mijn eerst slang met een klemmechanisme, en dat werkt fijn!
Pros
Prettig klemmechanisme
pomprubbers los te koop
Past ook op oudere pompen
Snelle levering en een lange slang met super E.V.A. pompkop.
Voor mijn 20 jaar oude SKS fietspomp een nieuwe slang besteld. Nu met E.V.A. pompkop. Mooie lange slang. Gemakkelijk te bedienen. Alle onderdelen voor mijn oude SKS pomp nog te bestellen. Super!!
Pros
Lange slang
makkelijke te bedienen pompkop
snelle levering
makkelijk onderdelen bestellen
Onmisbaar
Pros
Lekker lange slang.
Geschikt voor verschillende ventielen
In combinatie met de SKS baanpomp de ideale fietsp
---