PowerBar Ride Bar Peanut - Caramel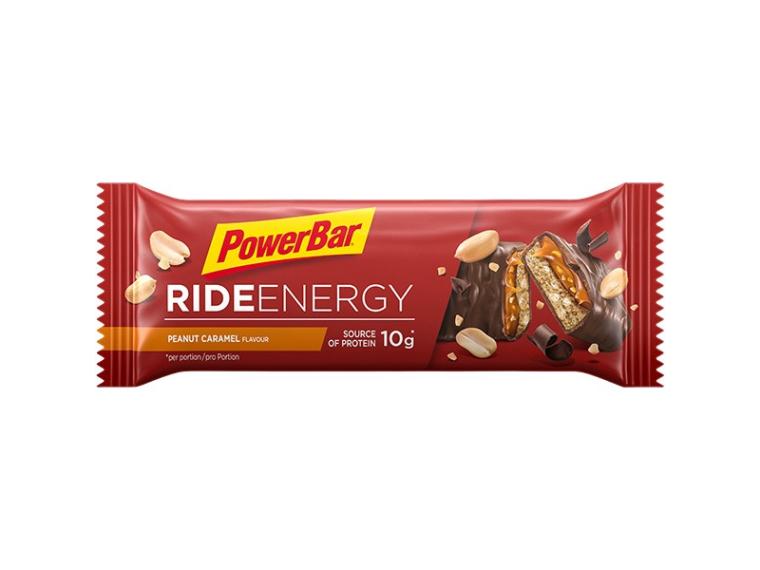 ---
---
Free tracked shipping over £35.00
Trustpilot review 9.3 out of 45.347 reviews
---
Specifications
Specifications
Brand
PowerBar
When to use
Before Exercise / During Exercise
At which intensity to use
Low intensity
Energy duration
up to 30 minutes
Gluten-free
No
Lactose Free
No
Taste
Caramel
Kcal
401
Fat
15.2 grams
All specifications
Description
Description
The PowerBar Ride Bar is a great bar with nice bite and delicious caramel flavour. The content of one bar is 55 grams with about 25 grams of carbohydrates.

Nutritional value per bar (55g)
Kcal: 221
Fat: 8.5 grams
Saturated fat: 3.6 grams
Carbohydrates: 25.5 grams
Sugars: 15.1 grams
Protein: 10.7 gram
Salt: 0.94 grams

Glaze with cocoa (20%) (sugar, vegetable fat, low fat cocoa powder, whey powder, skimmed milk powder, emulsifiers (soy lecithin, polyglycerol polyricinoleate), caramel paste (15%) (glucose-fructose syrup, sugar, vegetable fat, skimmed milk concentrate with sugar, butter fat, emulsifier (mono- and diglycerides of fatty acids, gelling agent (carrageenan), salt), wetting agent (maltitol syrup, glycerol), glucose syrup, soy crisps (soy protein, starch, salt), invert sugar syrup, oat fiber, peanut paste (3.7%), whey protein, milk protein, soy protein, peanuts (3.6%), peanut meal (3.5%), inulin, maltodextrin, salt, magnesium carbonate, emulsifier: soy lecithin.

Allergen declaration EU: Contains milk, lactose, soy, gluten, nuts and peanuts. May contain traces of other nuts.

Warning: store in cool, dry place, out of reach of young children. Do not exceed recommended daily dose. A nutritional supplement is no substitute for a varied diet.
Find out more on our Blog