Cema Bearing Bottom Bracket Press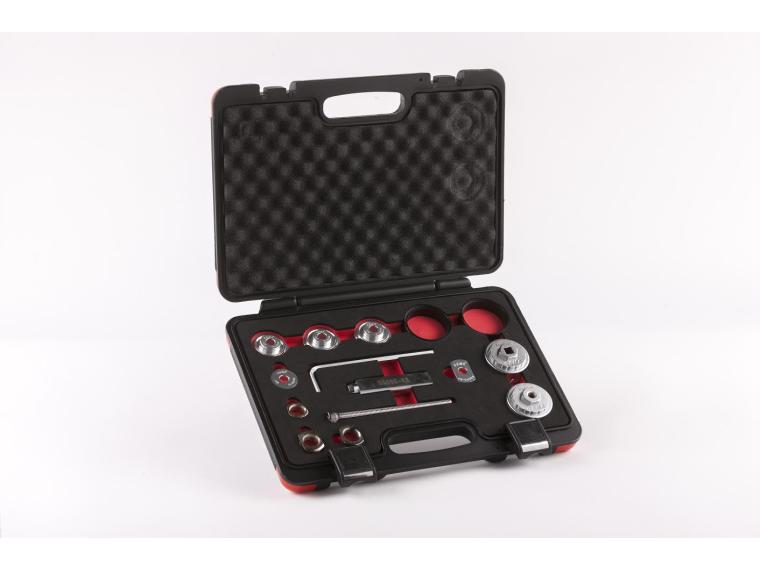 ---
This product is sold out, and will not come back in stock.
Trustpilot review 9.4 out of 51.034 reviews
---
---
Reviews
Reviews
---
Pros
There are currently no pro's available in English yet
Cons
There are currently no cons available in English yet
Most recent reviews
Quality bearing set
Safe and easy extraction and replacement of bottom bracket bearings.
Fantastic Tool Set
This really is a fantastic quality BB tool set. Have so far used it to remove and re-fit PF30 BB's and replace the bearings in a Rotor PF4624 BB. Simple, quick and rock solid.
Super mooi
Ziet er netjes uit en ze passen ook . Hiermee kan ik alle pressfit lagers goed vervangen.
proficiat
Deze tool is gewoon uitermate perfect. Heb gebruik gemaakt van andere sets maar deze is prijs kwaliteit het best. Alle mogelijke BB te monteren en op een gecontroleerde manier. De prijs is ook heel laag tegen over concurrenten. Uitermate simpel bij eerste gebruik.
Pros
handige tool
simpel in gebruik
overzichtelijke doos
alles mogelijk om te monteren
kit die ook demontage voorziet
Cons
na een geringe tijd nog geen nadeel.
Een toolset voor alle press fit bottom brackets
Met deze tool-set verwijder en installeer je vrijwel alle gangbare (press fit) bottom bracket types. Verwijderen van oude lagers en cups via spindel zorgt voor gecontroleerd verwijderen, in tegenstelling tot bijvoorbeeld de Park Tool BBT-90.3 waar een hamer nodig is. Ook geschikt voor Interlock lager(cup)s.
Pros
Gecontroleerd verwijderen van cups en lagers
Geschikt voor alle press fit bottom bracket types
Ook geschikt voor Interlock lager(cup)s
Complete duurzame gereedschapsset
Cons
Prijs in vergelijking met "hamer"oplossingen
All specifications
All specifications
Manufacturer description
Replace external BB / Press fit BB bearings and cups directly and easily
Recommended for cycling shop or repair center use
Compatible to the following bottom bracket systems

• BSA BB bearing replacement for Shimano/SRAM/all system
• Press Fit BB Bearings replacement for all system
• Interlock BB bearing replacement for CEMA
• BB30 bearing replacement for FSA/SPACELINE BB30/BBright BB30
• Press Fit/ Interlock BB Cup remove for all system
• External BB Cup protection for Shimano/FSA/SRAM external thread
Manufacturer specifications
• External Bearing Cup: SRC-TT-B006C-2
• Extractor Tube: SRC-TT-B006C-3

Adapter
• 24mm x 25 mm: SRC-TT-B006C-4
• 22mm x 30 mm: SRC-TT-B006C-5
• 24mm x 30 mm: SRC-TT-B006C-6

• Bearing Removal Ring 24mm: SRC-TT-B006C-8
• Bearing Removal Ring 30mm: SRC-TT-B006C-9
• Bearing Removal Ring For SRAM: SRC-TT-B006C-10

• Spacer – ID48mm: SRC-TT-B006C-11
• Spacer – ID52mm: SRC-TT-B006C-12

• Gasket: SRC-TT-B006C-7
• Thread Screw: SRC-TT-B006-14
• BB Adapter for BS: SRC-TT-B014-2
• BB Adapter for PF30: SRC-TT-B015-1
• Hex Wrench: SRC-TT-B006-15
• Nut: SRC-TT-B014-01