Trivio Starter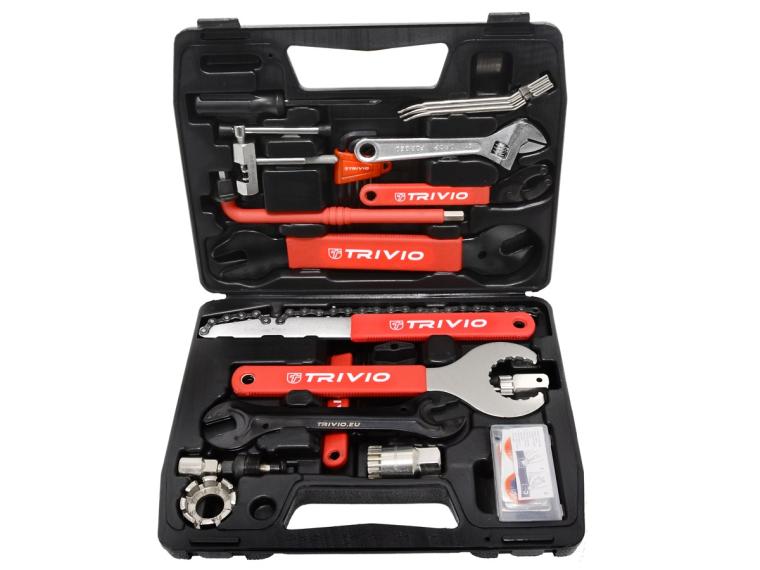 ---
---
Delivery in 2-3 working days
Free tracked delivery
Trustpilot review 9.3 out of 46.338 reviews
---
Description
Description
Trivio Starter: the toolbox for the novice biker. See specifications for content.


Delivery includes
• Crank Pulley
• Crank Pulley-adaptor for Shimano and ISIS BB
• Tyrepatch airdam
• Key for Left BB cup
• Spanner 8X10 MM
• 2 +/- screwdrivers
• Spanner 14X15MM
• Chain rivet extractor
• spanner / 6-inch adjustable wrench
• Tyre lever
• Bottom Bracket removal tool
• Allen key: 2 / 2½ / 3/4/5/6/8/10 mm
• Cone Wrenches: 13/14/15 / 16mm
• Spoke wrench 10-15g
• 1/2 "adapter for socket wrenches
• Allen key 8MM for crank disassembly
• Shimano cassette lockring tool
• Shimano ISIS cassette lockring tool
• Chain whip
---
---
---
---
Reviews
Reviews
---
Pros
almost every tool you really need

(1)

handy case to keep them all together

(1)
Cons
There are currently no cons available in English yet
Most recent reviews
Christopher, 27 March 2017
Better than expected quality
Having previously had a cheap all in one tool-kit similar to this, I expected the quality to be similar. However, I'm pleased with the quality of this item - better than expected for the price.
Pros
almost every tool you really need
handy case to keep them all together
Good kit for the price
Good kit, pity the puncture repair kit supplied was missing the vulcanising cement necessary for repairs
Mooie complete set
Mooie complete set voor een goede prijs!
Pros
Vrij volledig
Goede kwaliteit koffer
Goede prijs
Cons
Metalen bandenlichters
Mis grote conussleutel
Perfect geregeld!
Perfect!
Rouust, overzichtelijk, compact en compleet.
Prima complete set, alles bijelkaat. Nooit merr zoeken.
Pros
Robuust
Alles bijelkaar
Compleet
Overzichtelijk
---