Thule Xpress 2 970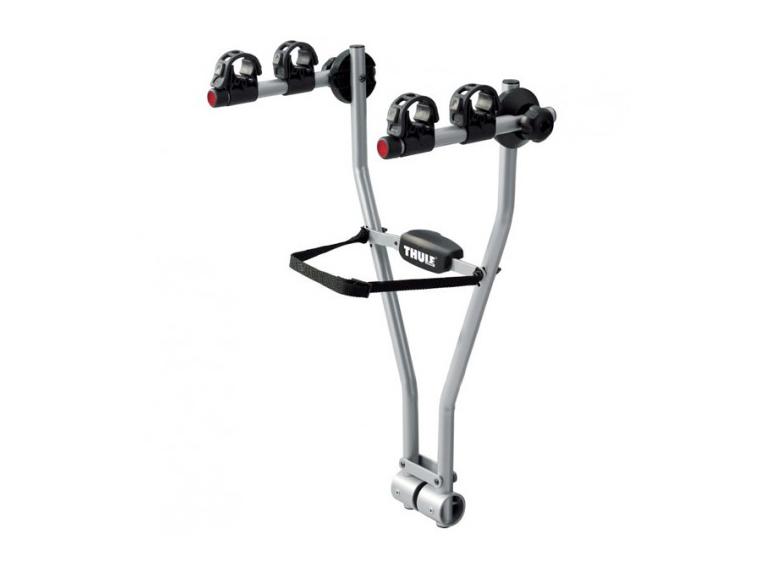 ---
---
Delivery in 2-3 working days
Free tracked delivery
Trustpilot review 9.3 out of 42.762 reviews
---
Specifications
Specifications
Brand
Thule
Suitable for vehicle
Car
Suitable for
Sports bicycles (Aluminium) / Sports bicycles (Carbon) / City bikes
Load Capacity
2 Bikes
Type of Carrier
V-shaped Towbar Mounted Bike Carrier
Bike mount system
Frame
Upgradeable to 1 extra bike
No
Distance between bikes
< 15 cm
Maximum total weight
30 kg
All specifications
Description
Description
The Thule 970 Xpress HangOn is the only bike carrier of its kind with an ISO approved tow bar attachment. The soft, protective frame holders ensure your bikes stay right where you want them.

The pre-installed belt ensures the bikes don't go anywhere and the included reflectors provide additional safety. The bikes hang at an ideal height off the ground. The Thule carrier can be folded flat, making it easy to store or handle. The Thule 970 can be placed in any boot and taken along with you.

Not compatible with bikes which have a non-standard frame shape (Low-entry bikes, BMX's, certain mountain bikes).
---
Reviews
Reviews
---
Pros
There are currently no pro's available in English yet
Cons
There are currently no cons available in English yet
Most recent reviews
Carlijn, 20 December 2018
Super handige fietsendrager
Erg makkelijk in gebruik en ideaal voor vervoer van een (carbon) racefiets. Klein nadeel is dat je kentekenplaat niet meer goed zichtbaar is.
Pros
Snel en makkelijk in gebruik
Goed opvouwbaar tot klein pakket
Licht in gewicht
Fiets hangt stevig
topprodukt
zoals vermeld in de omschrijving, snel en handig gemonteerd en stevig
Achat super pratique
Ce porte vélos est très facile à utiliser, vite monté, vite enlevé, nous sommes satisfaits de cet achat aussitôt commandé, aussitôt expédié. Merci encore.
Snel te monteren onhandig met damesfiets
De tussenstang is op 2 types gazelle moeilijk te bevestigen. Daardoor hangen de fietsen raar en dichtbij de grond.
Virkelig god, vi bruger den meget.
---
All specifications
All specifications
| | |
| --- | --- |
| Suitable for vehicle | Car |
| Suitable for | Sports bicycles (Aluminium) / Sports bicycles (Carbon) / City bikes |
| Load Capacity | 2 Bikes |
| Type of Carrier | V-shaped Towbar Mounted Bike Carrier |
| Bike mount system | Frame |
| Upgradeable to 1 extra bike | No |
| Distance between bikes | < 15 cm |
| Maximum total weight | 30 kg |
| Max. weight per bike | 15 kg |
| Weight Bike carrier | 4,3 kg |
| Max. Towbar Load | n.a. |
| Taillight | n/a |
| Fog light | n/a |
| Reversing light | Does not apply |
| Indicators | n/a |
| Brake light | n/a |
| Tiltable | No |
| Ramp | No |
| Storage Bag | No |
| Extendable wheel gutter | No |
| Extendable lighting | No |
| Foldable Bikebrace | Yes |
| Extra compact when folded | No |
| Lockable on car | No |
| Lockable frame clamp | No |
| Connection | None |
| Warranty | 5 years |
| Material | Aluminium |
| Colour | Grey |
Additional information
• Includes straps to secure the bikes with
• Folds into a compact package