Sram Guide Aluminium Disc Brake Pads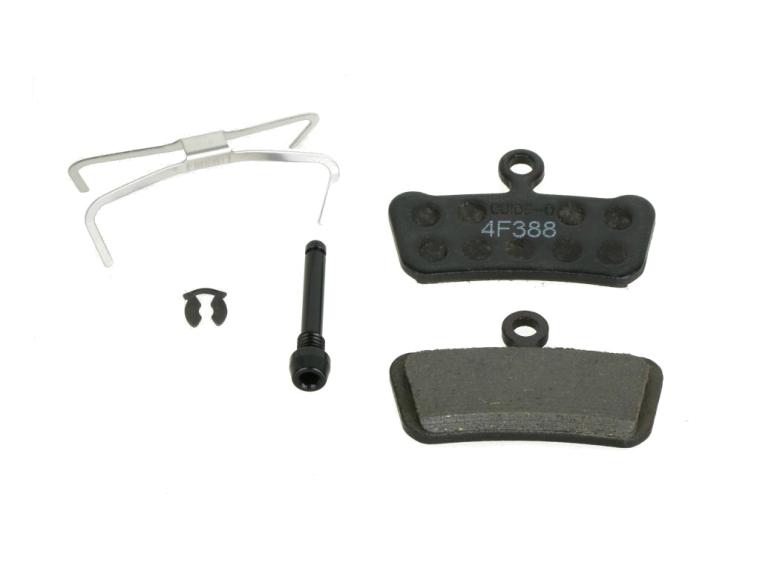 ---
---
Delivery in 2-3 working days
Free tracked shipping over £35.00
Trustpilot review 9.3 out of 44.224 reviews
---
Pros & Cons
Pros & Cons
Due to the aluminium backplate, these brake pads are more heat resistant than organic brake pads with a steel backplate.
The brake pads are easy to dose and quick to engage.
If you are going to make really long descents, these brake pads can lose braking power because of the heat that comes from braking.
These pads wear out faster than harder pads.
Specifications
Specifications
| | |
| --- | --- |
| Brand | Sram |
| Bike Type | Mountainbike |
| Hardness | Soft (alu backplate) |
| Number of brake pads | 1 Pair |
| Suitable for | SRAM B |
Description
Description
The Sram Guide Aluminium is a soft version with an aluminium back plate. This means that heat caused by braking is dissipated faster. This is a brake pad set for racing mountain bikers who want the best possible stopping power and control available.
---
---
Related products
Related products
| | | | | |
| --- | --- | --- | --- | --- |
| | | | | |
| | Sram Guide Aluminium | Sram Road Disc + Level TLM / Level Ultimate | Shimano L02A Resin | Shimano G04S Metal |
| | | 19 reviews | 30 reviews | 11 reviews |
| Bike Type | Mountainbike | Mountainbike / Road bike | Road bike | Mountainbike / Road bike |
| Hardness | Soft (alu backplate) | Hard (Metal) / Medium (Semi-metal) / Soft (Resin/Organic) / Soft (alu backplate) | | Hard (Metal) |
| Number of brake pads | 1 Pair | 1 Pair | 1 Pair | 1 Pair / 5 Pairs |
| Suitable for | SRAM B | SRAM D | Shimano G | Shimano A |
| | £18.90 | From £15.40 | £13.70 | From £13.70 |
| | This product | View product | View product | View product |
---