Shimano L04C Metal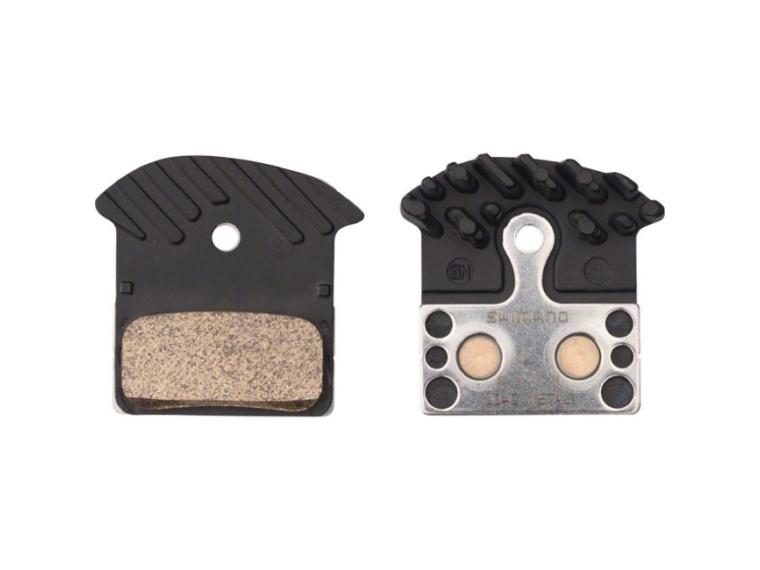 ---
---
Delivery in 2-3 working days
Free tracked shipping over £35.00
Trustpilot review 9.3 out of 42.791 reviews
---
Specifications
Specifications
| | |
| --- | --- |
| Brand | Shimano |
| Bike Type | Road bike |
| Number of brake pads | 1 Pair |
| Suitable for | Shimano G |
Description
Description
The Shimano L04C metal are suitable for the BR-RS805 and the BR-RS505 disc brakes. These are disc brakes used for road bikes and cyclocrossers. The L04C Metal brake pads are provided with cooling fins so the brakes don't overheat. The surface of the pad brakes well in all conditions.
---
---
Related products
Related products
| | | | | |
| --- | --- | --- | --- | --- |
| | | | | |
| | Shimano L04C Metal | Swissstop Sintered Disc | Shimano J04C Metal | Shimano H03C Metal |
| | 5 reviews | 1 review | 4 reviews | |
| Bike Type | Road bike | Mountainbike / Road bike / City bike and E-bike | Mountainbike / Road bike | Mountainbike |
| Number of brake pads | 1 Pair | 1 Pair | 1 Pair / 5 Pairs / 1 piece | 1 Pair / 5 Pairs / 1 piece |
| Suitable for | Shimano G | Shimano A / SRAM B / Magura A / Formula A | Shimano A | Shimano B |
| | £26.40 | £21.10 | From £23.70 | From £31.60 |
| | This product | View product | View product | View product |
---
Reviews
Reviews
---
Pros
There are currently no pro's available in English yet
Cons
There are currently no cons available in English yet
Most recent reviews
Stille fijne brake pads
Na een mooie fietszomer met twee vakanties in Frankrijk waren mijn brake pads aan vervanging toe. Omdat ik dit jaar voor het eerst met remschijven fiets heb ik op de remschijf gekeken en hierop stond resin pads only. In eerste instantie heb ik dus resin pads besteld. Deze gemonteerd en een fijne eerste rit gehad. Een paar dagen later ging ik weer fietsen en aan het eind van de straat klinken mijn remmen alsof de noodrem van een goederentrein is aangetrokken. Na wat googelen kan olie de oorzaak zijn en heb de pads en remschijf helemaal schoongemaakt. De eerste rit ging weer prima en ik was helemaal happy. Echter de volgende rit vergezelde prorail mij weer bij elke rem-actie. De originele pads waren metal, dus toch maar eens gekeken om de pads te vervangen naar metal. Bij de metal pads herkende ik de review van Hidde helemaal en meteen de metal pads besteld. De volgende dag meteen gemonteerd en nu hoor ik de vogeltjes weer fluiten als ik door het bos afdaal.
prima remmende blokken
Fiets met schrijfremmen gekocht. Hier zaten standaard resin blokken op gemonteerd. op zich remmen ze prima in de vlakke polders waar ik woon. de resinblokken dienen wel regelmatig schoon gemaakt te worden, omdat resin in een soort hars zit en dit meer stof produceert dan de metal L04C blokken. Ook in de bergen was het geen succes, tijdens het dalen veel gepiep, dit ook weer door het stof wat veel makkelijker los komt en tussen blok en schrijf gaat zitten en gaat piepen. De L04C metal blokken gekocht, ook omdat ze voor mijn doen, betere prestaties hebben dan de resin. Betere remwerking en geen piepende afdalingen meer. Alleen als je in de regen rijd piepen beide remmen net zo erg. Alleen goed opletten welke blok geschikt is voor welke type remschrijf!
Pros
aangrijpingspunt
koelvinnen
levensduur
piepen niet (droog)
minder stof ontwikkeling
Wilbert, 27 November 2017
werken goed
installeren gaat makkelijk, check even op youtube als je twijfeld. het verschil met de resin remblokjes is me niet helemaal duidelijk.
prima remprestaties, goed doseerbaar, prima levensduur.
Ik wil niets anders meer op mijn fiets dan schijfremmen.
---