Schwalbe Racing Ralph Addix Speedgrip TL-Easy Tyre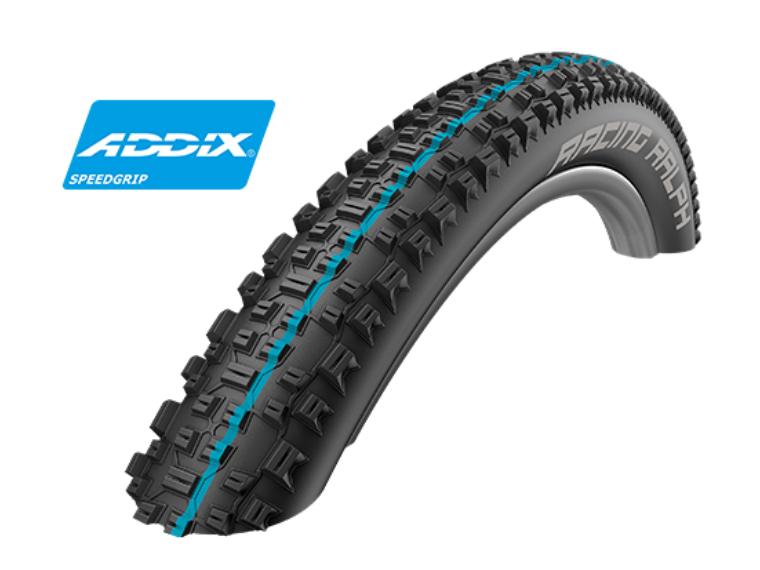 ---
Currently out of stock

Expected: Delivery date unknown
Trustpilot review 9.3 out of 42.788 reviews
---
Specifications
Specifications
Brand
Schwalbe
Tyre width
57 mm / 2.25 inch
Type of tyre
Tubeless Ready / Foldable tyre
Colour
Black
Series
Addix Speedgrip
Thread per inch (TPI)
67
Version
SnakeSkin / Tubeless Easy
Road
★★★☆☆
Hard pack
★★★★★
All specifications
Description
Description
A versatile mountain bike tyre which allows you to keep racing until your legs give out. The Schwalbe Racing Ralph Addix Speedgrip TL-Easy is a wide-application tyre because of the new Addix Speedgrip compound. This new rubber composition makes it particular suitable for use in the XC, All-Mountain and Trail riding mountain bike disciplines. Speedgrip ensures the tyre lasts longer and, like the name suggests, offers you more grip. The tread features low profile knobs. This lowers rolling resistance but still offers enough traction when you need it most. The outer knobs take over whenever you hurl your bike into a corner. These lugs are slightly taller than those in the middle, as they provide traction in turns.

Addix Compound
The Addix compound has managed to crack the ordinary trade off between wear, rolling resistance, and grip. This is a dilemma which has occupied the cycling tyre industry for years. Normally, they'd have to sacrifice one of these traits to improve the others, but no longer. Schwalbe has raised the bar even further when it comes to performance and quality with Addix. Not just for XC-racing use, but for all mountain biking disciplines, which all have their own specific needs and demands. For that reason, there are no less than 4 different versions of this compound type available.

Addix Speedgrip
This type of compound has a light blue line running along the length of the tyre. The Speedgrip compound is by far the most versatile, and suitable for disciplines like XC, All-Mountain, and Trails. The durability has been improved by 62% over its predecessor, the PaceStar compound, and grip has been enhanced by 35%.

Tubeless Easy. Snakeskin
Schwalbe is a firm believer: tubeless is the tyre technology of the future. The Snakeskin fabric in the sidewall of the tyre makes the tubeless conversion for the mountain bike extremely easy, light and safe. At the same time the fabric provides the best protection against cuts in the sidewall.
Find out more on our Blog