Ritchey Torque Key 5-Nm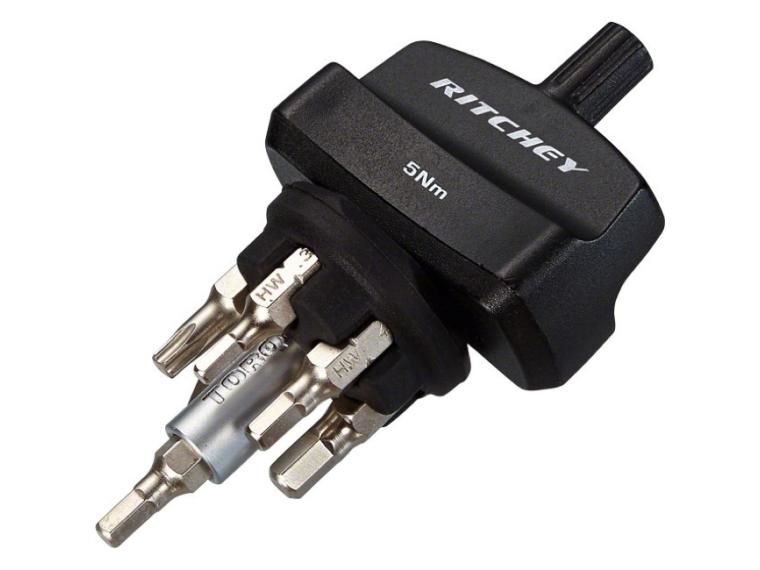 ---
---
Delivery in 2-3 working days
Free tracked shipping over £35.00
Trustpilot review 9.3 out of 47.793 reviews
---
Description
Description
The Torque key from Ritchey. You can tighten parts on your bike up to 5Nm. This is so you dont have to be afraid your bolts of your handlebar are not tight enough. The Torque key is calibrated to 5Nm with a indicator you can feel and hear. The Torque comes with the following allenkey sizes: 5mm, 4mm and 3mm and the torx sizes T-20 and T-25.
---
---
Reviews
Reviews
Werkt zoals het hoort.
Werkt zoals het hoort, met duidelijke feedback bij 5 Nm. De handgreep is wat onhandig vormgegeven en aan de kleine kant. Dat maakt het lastig om goed kracht te zetten. 5 Nm lukt wel, maar het design had beter gekund. De geïntegreerde opbergmogelijkheid voor de bitjes is dan wel weer handig.
Geweldig voor onderweg
Geweldig kleine tool voor onderweg en reizen
Pros
compact
ligt goed in de hand
alle nodige bitjes aanwezig
Handig tooltje
Heb bijna alles carbon op de fiets, om niet alles kapot te draaien het beste een momentsleutel, na een beetje zoeken deze van Ritchey gevonden welke niet direct een aanslag op je beurs is. Werkt super makkelijk, bij het bereikte Nm slaat het tooltje door dus de Nm bereikt.
Pros
Prijs
Werkt goed
Ook voor onderweg mee te nemen
Cons
Handvat niet ergonomisch
Bij veel gebruik, beter een grotere kopen
top ding
Ik ben er heel blij mee
---
All specifications
All specifications
Additional information
• 5mm, 4mm and 3mm allen keys and T-20 T-25 Torx
• Magnetic bit retention
• Calibrated to 5nm