PowerBar Isomax Orange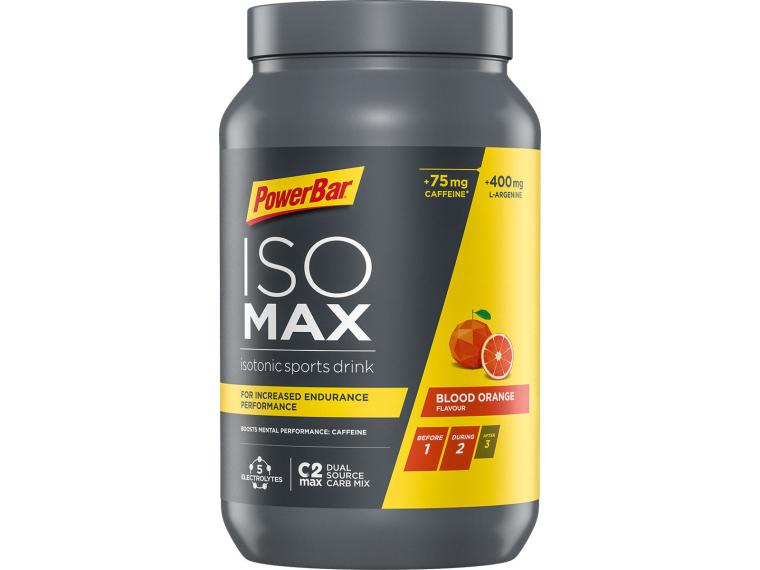 ---
Currently out of stock

Expected: This week
---
Free tracked shipping over £35.00
Trustpilot review 9.3 out of 45.388 reviews
---
Specifications
Specifications
Brand
PowerBar
When to use
Before Exercise / During Exercise
Sports drink composition
Isotonic Drink
Volume
1200 grams
Taste
Orange
Dietary choice
None / Vegan / Vegetarian
Kcal
360
Fat
0.5 grams
Saturated fat
0.5 grams
All specifications
Description
Description
The PowerBar Isomax sports drink is desgined for intense workouts and races. The Isomax sports drink is provded with C2Max carbohydrates, the 5 most important electrolytes, 400mg sodium, 70mg caffein, and 3,750mg PeptoPro amino acids.

Nutritional value per dose (50 grams)
Kcal: 178
Fat: 0.25 grams
Saturated fat: 0.25 grams
Carbohydrates: 41.5 grams
Sugars: 32.0 grams
Protein: 3.0 grams
Salt: 1.04 grams

Ingredients:
Glucose, fructose, maltodextrin, casein hydrolyzate (from milk) (7.5%), minerals (sodium citrate, sodium chloride, calcium gluconate, potassium chloride, magnesium citrate, calcium lactate), acidifiers (citric acid), aroma, safflower concentrate, antiticking agent: silica, beetroot .

Allergen EU declaration: Can contain traces of gluten, egg, milk, soya and nuts.

Warning: Contains caffeine, 70 mg per dose. Not recommended for children and pregnant women. This nutritional supplement is not suitable for persons under 18 years of age. Do not exceed the recommended dosage. If you are following a special diet or using medicines, it is always safe to ask your doctor for advice. A nutritional supplement is not a substitute for a varied diet. A balanced, varied diet and healthy lifestyle are important. Store in a cool, dry place, out of reach of young children.
Find out more on our Blog