Muc-Off Miracle Shine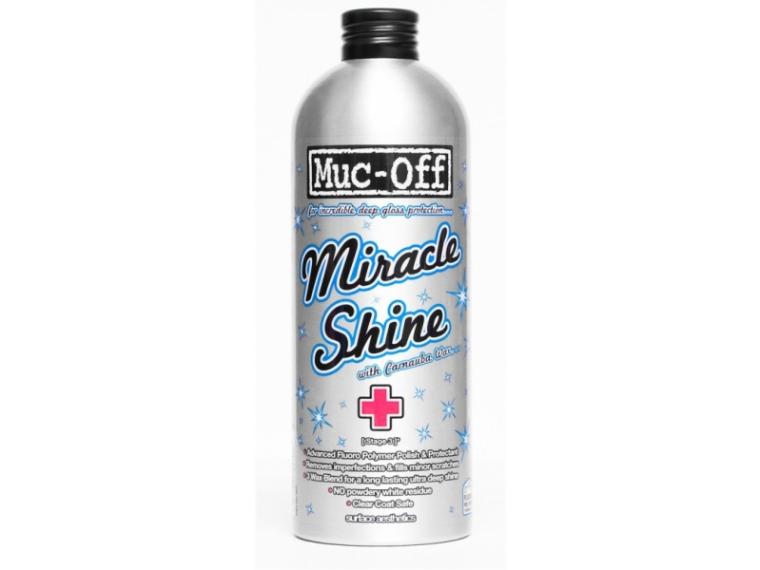 ---
---
Delivery in 2-3 working days
Free tracked shipping over £35.00
Trustpilot review 9.3 out of 45.118 reviews
---
Description
Description
Muc-Off Miracle Shine is the ultimate care product for your bike. It is specially designed to give your bike a deep, luxurious shine. The wax protects against the elements and have your bike look like it came off the showroom floor. The unique formula consists out of three different types of waxes that together provide superior cleaning and shining. The smartest ingredient in Miracle Shine is called "Fluoro Polymer Technology", which is waterproof and protects against harmful substances in the atmosphere. This means that your bike stays cleaner between the washes, but also that it is easier to clean. Every time when you apply the wax, it forms a protective layer that keeps your bike like new!
---
---
---
Reviews
Reviews
---
Pros
There are currently no pro's available in English yet
Cons
There are currently no cons available in English yet
Most recent reviews
Prima poetsmiddel.
Een aantal keer gebruikt, krijg elke keer n mooie schijn op mn carbon frame.
Als nieuw !
Fijn spul. Fiets is weer als nieuw!
It's a miracle!
Mijn carbon racefiets is weer als nieuw door Muc-Off Miracle Shine! Werkt perfect! Ruikt heerlijk en je hebt er niet veel van nodig. It's a miracle!
Pros
vuil hecht niet aan je frame
Geur
makkelijk aan te brengen
zuinig
Lak krijgt een diepe glans na de poetsbeurt
Super lak beschermer.
Ik gebruik dit als jaren en de lak ziet er nog als nieuw uit. Het beschermt de lak ook tegen opspattende steentjes. Na bijna elke rit behandel ik na het wassen mijn frame en onderdelen mee en doe ruim 3 jaar (15000 Km) met 1 fles.
Pros
Goede lakbescherming
Makkelijk aan te brengen
Gaat heel lang mee.
Goede lakbescherming minder last van steenslag.
Ik gebruik het al vele jaren. Het beschermt de lak tegen alle invloeden van buitenaf af. De kleur blijft hier door ook mooi. Tevens geen last van steenslag. Het vormt een harde laag waar door je geen last meer hebt van lakbeschadiging door opspattende steentjes.
---