Maxim Total Hydration Tablets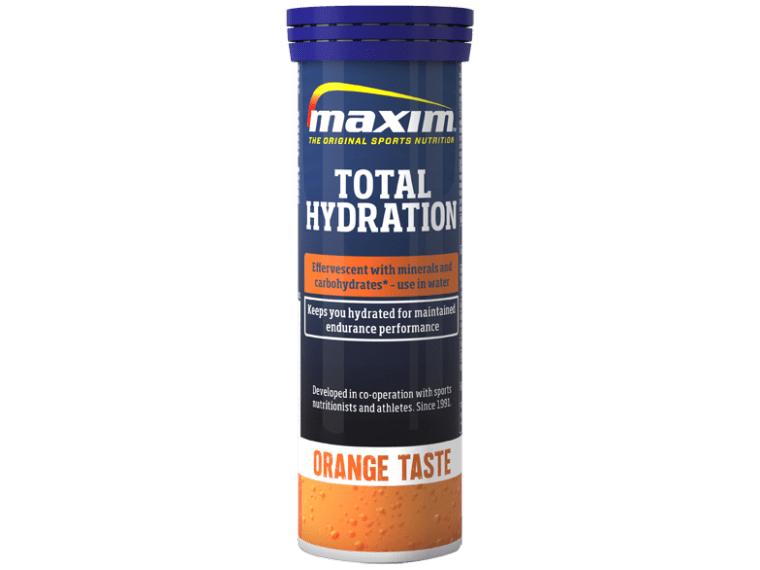 ---
---
Delivery in 2-3 working days
Free tracked shipping over £35.00
Trustpilot review 9.3 out of 44.168 reviews
---
Specifications
Specifications
Brand
Maxim
When to use
During Exercise
Taste
Orange
Kcal
345
Fat
0,0 grams
Saturated fat
0.0 grams
Carbohydrates
77.0 grams
Sugars
66.0 grams
Protein
0,0 grams
All specifications
Description
Description
Maxim introduces a completely new product; Maxim Active Hydration tablets Orange. Compact tablets which can be dissolved in water to get a hypotonic thirst quencher, which contains carbohydrates but also 9 vitamins and 3 minerals! 1 package contains 10 tablets.

Nutritional information per tablet (10 gram)
Kcal: 34.5
Fat: 0.0 g
Saturated fat: 0.0 g
Carbohydrates: 7.7 g
Sugars: 6.6 g
Protein: 0.0 g
Salt: 0.37 g

Ingredients:
Dextrose, acid (citric acid), humectant (sorbitol (from corn and wheat)), fructose, cikoriaroot fibres (inulin), minerals (sodium carbonate, potassium carbonate, magnesium carbonate, natrium chloride), starch, flavouring agents, maltodextrine (from wheat), sweetener (sucralose), colouring agents (red beets, riboflavine).
Find out more on our Blog