Cyclon Kettenmax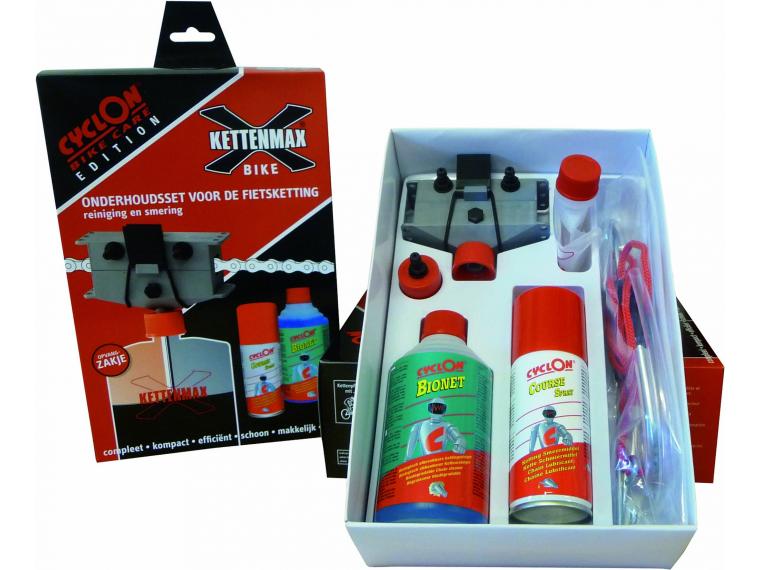 ---
This product is sold out, and will not come back in stock.
Trustpilot review 9.3 out of 45.230 reviews
---
---
---
Reviews
Reviews
Handige set, maar incompleet
Handige reinigingsset. Echter reinigingsmiddel ontbreekt waardoor je toch extra kosten maakt. Wordt niet duidelijk op de doos vermeld (aangezien daar een volle fles op staat).
Pros
Handige set, geen vuile handen
Leuk idee, maar toch: Nee.
In principe een leuk idee: een pakketje met alles wat je nodig hebt. Voor nieuwelingen in de fietswereld (zoals ik) leek het een uitkomst! Helaas is het schoonmaakborstelapparaatdingetje niet meer dan een leuk idee. De uitvoering is namelijk echt, Tsjah, stom. Er zitten een stuk of 8 borsteltjes in, of 10, in elk geval veel. En daarvan maken er welgeteld 4 contact met de ketting. De rest zit er voor spek en bonen bij. Zonder grappen: ze raken de ketting mooi niet. De borsteltjes die de ketting wél raken slijten enorm snel. En dan kan je denken: "dan kan je die andere borsteltjes mooi gebruiken als vervanging!" Maar helaas, die vlieger komt de Alpe d'Huez niet op. Alles zit namelijk of muurvast of is gewoon niet geschikt voor die plaatsing. Het gefrunnik met buisjes en flesjes en zakjes etc waarbij je eigenlijk minimaal 3 handen moet hebben is, zelfs na oefenen en goed nadenken, ronduit onhandig. Mijn oordeel: Geen idee wat er nog meer te koop is (dat ga ik NU uitzoeken) maar dit raad ik in elk geval niet aan. Daarbij ook nog: het is echt te duur voor wat je krijgt.
Pros
Leuk idee
Best prima schoonmaakmiddel
Cons
Alleen simpele siliconenspray bijgevoegd
Erg klein flesje schoonmaakmiddel
Onhandige beugeltjes ETCETERA!
---