Muc-Off C3 combi pakket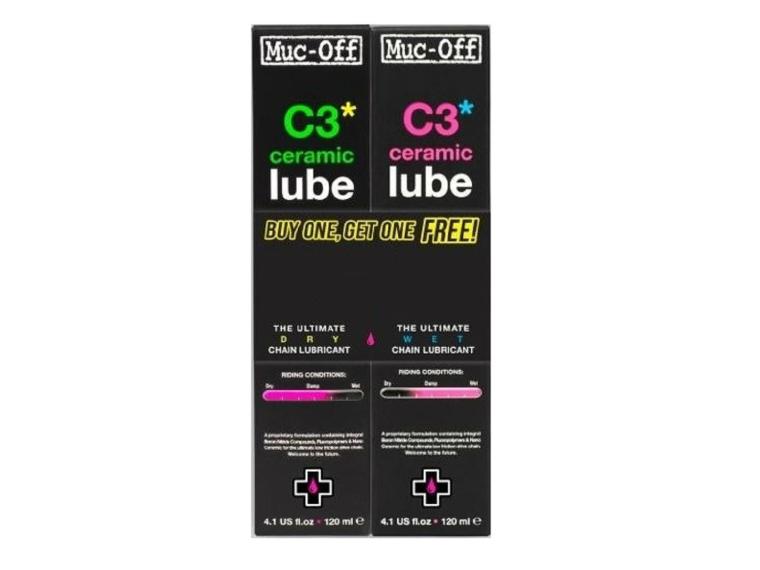 ---
Delivery in 2-3 working days
Free tracked shipping over £35.00
Trustpilot review 9.3 out of 40.822 reviews
---
Description
Description
With this combo pack you will receive both the C3 Ceramic lube variants. A cheap combination of two of the best lubricants that Muc-Off provides.

The Muc-Off Dry Ceramic Chain Lube increases the standard when it comes to the ultimate lubricant. It provides complete corrosion protection and unrivaled performance in dry, dusty and humid conditions. The added ceramic nano particles and synthetic polymer ensures that the Cry Ceramic Chain Lube increases your power output, reduce the friction to a minium, it provide up to 10 times better than standard lubrication oils. The Muc-Off ingenieurs have done their utmost to create the best lubricant possible. In addition, this oil is biodegradable and petroleum free, so you do not have to worry about our nature. With the included UV light, you can see perfectly in the dark if you chain is well lubricated.

The secret of the Muc-Off C3 Wet Ceramic Chain Lube is the unique ceramic coating that provides unparalleled durability and performance over a long time. The innovative mix of lubricants also ensures very low resistance, high perfromance and durability. With the waterrepellent qualities of the C3 Wet Ceramic Chain Lube also in the worst weather conditions, it delivers the best performance in combination with your drivetrain. With this Muc-Off lubricant you have to lubricate your chain less often, but if it is necessary, you can do this easily with the convenient pipette.