Axa Newton Pro U-lock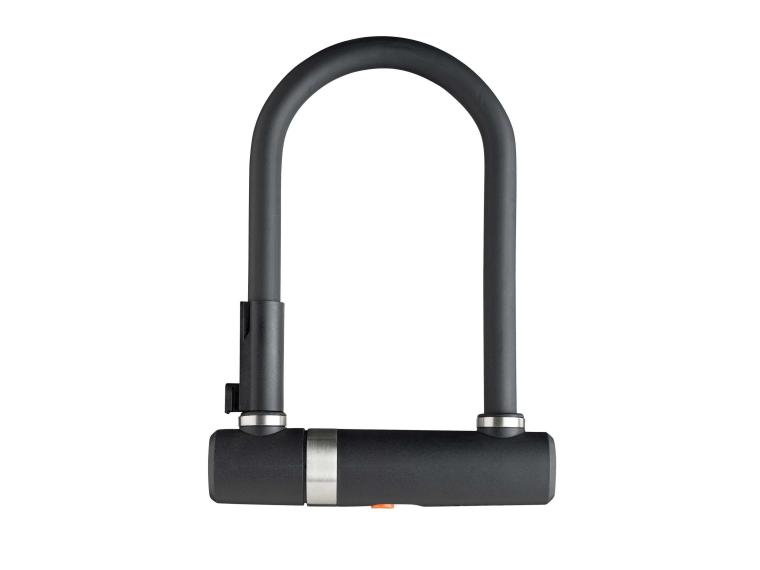 ---
Trustpilot review 9.3 out of 46.980 reviews
---
Description
Description
The Newton Pro is the muscleman in the U-lock range by Axa. Provided with chic stainless steel details, simple to bring along and approved to insure both bikes as well as light motor vehicles. The Axa Newton Pro is made of hardened steel. It has a 13mm diameter. The anti-drilling cilinder is provided with a cap to protect against moist and dirt, which optimises the durability of the lock. Its length of 190mm is long enough to manoeuvre it through your wheel or attach the bike to a fixed object like a lamp post. The included mount can be easily attache to your frame and offers comfortable transport of your U lock.

The AXA Newton Pro includes two keys and has an international online key service.
Delivery includes
• Axa Newton Pro U-lock
• 2 keys
---
Reviews
Reviews
---
Pros
There are currently no pro's available in English yet
Cons
There are currently no cons available in English yet
Most recent reviews
Sehr gut, leider etwas kurz
Zeer doelmatig en compact
Bij aankoop dacht ik even dat het beugelslot te klein zou zijn, maar eenmaal op het frame gemonteerd, valt dit alles mee. Het had niet veel groter moeten zijn. Bedienen van dit slot is eenvoudig, waarbij ook voor de vergrendeling de sleutel nodig is. Dit lijkt omslachtig, maar in werkelijkheid maakt dit het slot betrouwbaarder dan de exemplaren die met een veer/klik kunnen vergrendelen. De bijgeleverde ophangbeugel is slim bedacht. Het slot kan bij gebruik van die beugel op het frame wel iets rammelen op oneffen wegdek.
Pros
Makkelijke framebevestiging
Betrouwbaar en solide
ART***
Bescheiden verpakking
Uitstekende prijs/kwaliteit
Cons
Klepje (schuif) over sleutelgat zou beter kunnen
Minder handig, wel uitstekende kwaliteit.
Het is wat zwaar. Niet echt een probleem, je gaat het immers niet overal met de hand meenemen. Op slot zetten is ietsje lastig. Uiteraard is met een ringslot sneller. Na enige gewenning is dat ook geen probleem. Het is niet goedkoop, gelukkig kan je bij Mantel goedkoper kopen dan bij concurrentie. Tegen deze kleine minpunten, heb je wel een stevige kwaliteit slot.
Good Service
Pros
double lock
not too long
art **
Zwaar en stevig, slotmechanisme kan beter
Het slot is behoorlijk zwaar. Op zich is dat een goed teken in het kader van veiligheid, maar ik kan het ook echt merken als hij in mijn rugtas zit. Ik vind het storend dat het slotmechanisme nu al niet heel solide voelt. Ik heb het slot net, en de sleutel draait soms niet goed rond en blijft ergens hangen. Ik kan me voorstellen dat dat in de toekomst niet veel beter wordt bij meer gebruik. Dit probleem heb ik eerder gehad bij een AXA kettingslot (kennelijk een probleem van het merk). Het stofkapje dat erover zit is een goed idee, maar beweegt zo stroef dat ik hem eigenlijk niet gebruik. Sommige sloten hebben daarnaast de mogelijkheid om ze op slot te doen zonder een sleutel nodig te hebben (denk aan een hangslot). Dat is handig als je je fiets veel gebruikt en op slot zet. Dat heeft dit slot niet. Het slot is voor mij prima voor nu, maar ik zou hem niet nogmaals kopen.
Pros
Metaal is afgewerkt met rubber tegen krassen
Beoordeeld op gewicht waarschijnlijk veilig
Montage voor op frame bijgeleverd (niet gebruikt)
Prijs
Cons
Zwaar
Wat onhandig mee te nemen
Slotmechanisme gaat niet soepel
Stofkapje bij slot gaat stroef
Altijd sleutel nodig (ook bij vastzetten)
---
All specifications
All specifications
Additional information
Safety
• Safety level 15
• Approved for bike insurance
• Anti drilling plate in cilinder

Comfort
• Sturdy frame mount
• Cilinder protects against moist and dirt

Technology
• Length 190 mm
• Hardened steel, 13 mm
• Stainless steel details
• International online key service