Shimano Click'r PD-T400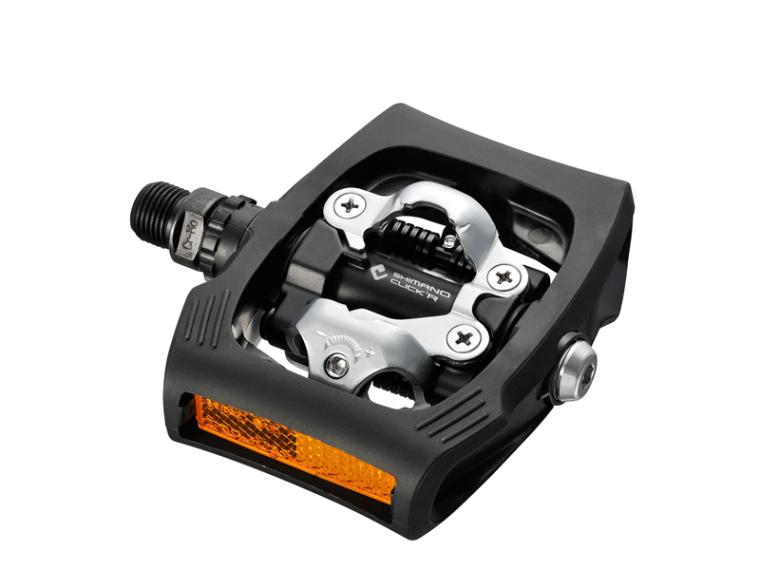 ---
---
Ordered before 22:00, delivered on Monday
Free tracked shipping over 75.00€
Trustpilot review 9.4 out of 50.112 reviews
---
Specifications
Specifications
Brand
Shimano
Discipline
Cross-Country / Trekking
MTB pedal type
Combination Pedal
Cleat Type
Shimano SPD
Cleats included
Yes
Clip Mechanism
Double-sided
Adjustable spring tension
Yes
Colour
Black
All specifications
Description
Description
Light grip which makes it easy to click in and out. Pop-up pedal cage to make click in easy, so perfect for when you just started cycling.
---
---
Reviews
Reviews
Zeer goede pedalen
Shimano Click'r is een uitstekende oplossing voor fietsers die klikpedalen gebruiken maar ook normaal met de schoenen willen kunnen lopen. Ik gebruik deze pedalen al jaren in combinatie met de bijpassende waterdichte Shimano fietsschoenen. Dit is mijn tweede set pedalen. Vervanging was nodig omdat van een van de trappers de inbusbout miste. Het is aan te raden om deze af en toe te controleren.
Pros
makkelijk te bevestigen
goede hechting
makkelijk te lossen
Perfect voor wat ik zocht.
2 trappers in 1, als je aan 1 kant de ijzertjes eraf haalt. Zo kun je mooi op vakantie een mtb parcour pakken, en met de vrouw en kinderen recreatief fietsen met normale schoenen.
Pros
Dubbel zijdig in gebruik.
Kwaliteit
vast maar niet te
Ook met nomale schoenen is het nog goed fietsen.Eenvoudig los te klikken maar bij extra kracht zetten blijven ze goed vast zitten. Je snapt na gebruik niet dat je het ook zonder hebt gedaan......
Pros
vast
eenvoudig los
degelijk
All specifications
All specifications
Additional information
• Light grip to make it easy to click in and out
• Adjustable grip
• Pop-up pedal cage
• Chrome-molybdenum axle and closed, maintenance free bearing unit
• Integrated reflector
• Weight 507g
• Including cleats