Muc-Off BikeCare Pack Duo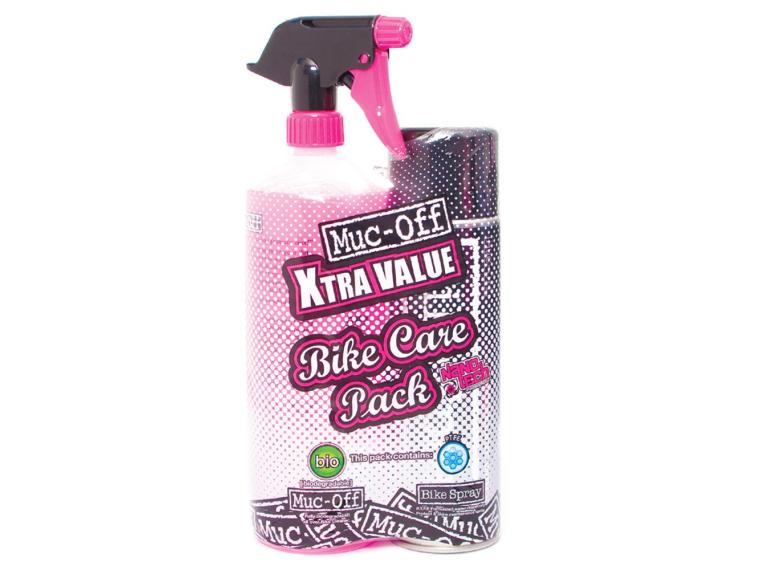 ---
Ordered now, delivered on Tuesday
Free tracked shipping over 75.00€
Trustpilot review 9.3 out of 38.063 reviews
---
Description
Description
The Muc-Off BikeCare Pack Duo is a pack with two sorts of cleaning products for your bike.

1: Muc-Off Bike Cleaner (1000ml)
Thanks to the high Nanotech formula the Muc-Off cuts even faster through dirt, regardless of the weather or type of dirt. This Nano Tech formula ensures dirt and grease is broken down into microscopic particles without damaging your bikes paintwork. This Muc-Off Bike Cleaner is not only the most effective way to clean your bike, but it is also the most environmentally friendly. There are no chemicals used, in fact, it is fully biodegradable. In addition it is also very friendly for your components, even for brake pads, rubber and chrome

2: Muc-Off Bike Spray (500ml)
Muc-Off has developed their own Bike Spray formula, so the bike stays clean after cleaning. By the addition of Teflon, dirt just falls off during your ride.
---
---
---
Reviews
Reviews
| | | |
| --- | --- | --- |
| 5 | | (13) |
| 4 | | (2) |
| 3 | | (0) |
| 2 | | (0) |
| 1 | | (0) |
---
Pros
There are currently no pro's available in English yet
Cons
There are currently no cons available in English yet
Most recent reviews
Heel grondige reiniging
ben superblij met mijn aankoop, doet echt waarvoor ik het gekocht heb! Reinigt heel grondig en gemakkelijk. Echt een kwaliteitsproduct dat zijn geld meer dan waard is.
Pros
reinigt grondig
efficiënt
kwaliteit
Prima spul!
Works like a charm!
Pros
Effectief
Handig in gebruik
Prima geur
Super combo!
Dit setje is alles wat je zou kunnen wensen voor je fiets aan kuisproducten, een super kuismiddel, misschien wel de beste op de markt en een super bike spray. Muc-off is echt leider op het vlak van kuisproducten maar ze zijn niet heel goedkoop. Met dit setje ben je dan ook enorm voordelig af. Beide producten zijn super en gaan lang mee. Ik gebruik ze dagelijks en zijn echt de beste die ik al gebruikte! Super!
Pros
prijs
kwaliteit
langdurig gebruik
Raymond, 27 February 2017
bijna compleet
Super spul van muc-off. JE vieze fiets onderspuiten, zonodig beetje borstelen, afspoelen en klaar. Na het drogen de bike protect eroverheen en je fiets is weer als nieuw. Had graag een set gezien met naast de bikeprotect ook een busje MO94, voor de draaiende onderdelen
Pros
werkt echt
bikeprotect ruikt lekker
Alessandro, 13 January 2017
Ottimo e facile da usare
Il prodotto è facile da usare oltre che efficace per la pulizia e protezione della bici. Nessun problema nella rimozione del detergente con pochissima acqua.
Pros
Efficacia
Semplicitià d'uso
---