Cyclon Bionet Cleaning 5 litre Degreaser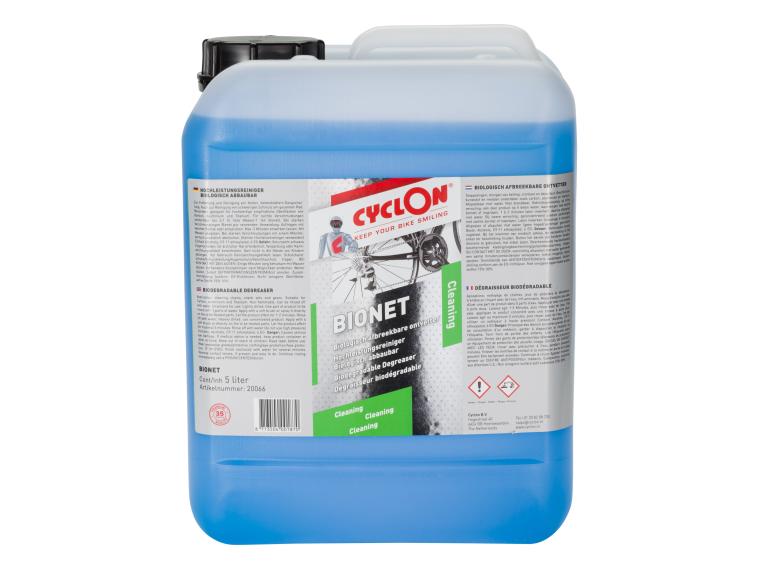 ---
---
Ordered now, delivered on Friday next week
Free tracked shipping over 75.00€
Trustpilot review 9.4 out of 50.239 reviews
---
Description
Description
This Cyclon Bionet Cleaning 5 litre jerrycan will last you a long time when cleaning your bike. Cyclon Bionet Degreaser is perhaps the best biologically degradable degreaser for removing oils, grease, cleaning and waxing products. Cyclon Bionet is suited for cleaning your chain, crankset, fork, tyres, handlebar, saddle, wheels, derailleur, spokes, brakes and cables. This degreaser works well with surfaces made of carbon, aluminium, plastic, metal and titanium. Your bicycle can only improve with this cleaning agent!
---
---
Reviews
Reviews
---
Pros
There are currently no pro's available in English yet
Cons
There are currently no cons available in English yet
---
Most recent reviews
Niet tevreden!
Deze gekocht omdat er geen 5L kannen waren van een ander merk, ik ben hier niet tevreden over. De ontvetter werkt naar mijn mening echt niet goed... Je moet er erg veel gebruiken met dan nog weinig resultaat. Met een ander merk heb ik dit probleem absoluut niet. Koop ik nooit meer!
Clémentz, 12 December 2018
Pascal, 11 September 2018
het is een ontvetter, hij ontvet
mja, wat kun je verwachten van een bekende ontvetter maar dan in een grotere verpakking. precies hetzelfde als de kleine verpakking alleen hoef je minder vaak bij te bestellen! ontvet goed, bij aangekoekte vettigheid zul je wel moeten schrobben maar het doet zijn werk.
Pros
het ontvet
grote verpakking
Beste ontvetter die er is
Doet precies wat het moet doen en goede grote verpakking.
Pros
Ontvet goed, doet wat het belooft
Cons
Grote opening morst snel bij overgieten
All specifications
All specifications
Additional information
• Biologically degradable.
• Can be mixed with water.
• Non-flammable.
• Pleasant scent.
• Not toxic.
• Suited for carbon, aluminium, plastic, metal and titanium.