Qwin PeptiPlus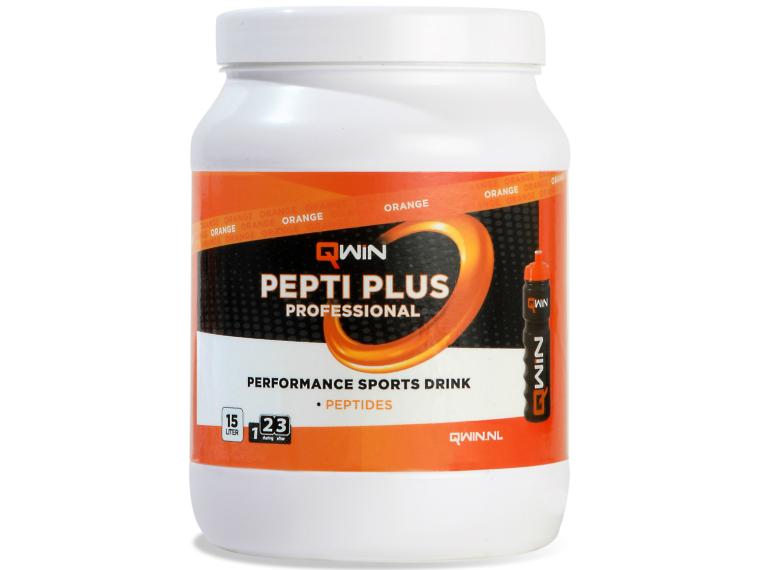 ---
---
Free tracked shipping over 75,00€
Trustpilot review 9.2 out of 48.746 reviews
---
Pros & Cons
Pros & Cons
Protein and carbohydrates Increasee performance and reduce fatigue.
Proteins simulate the preservation of muscle mass and recovery of damaged muscle tissue.
Glutamine is an important building block for muscle growth and recovery and supports the immune system.
Specifications
Specifications
| | |
| --- | --- |
| Brand | Qwin |
| When to use | Before Exercise / During Exercise / After Exercise |
| Expiration Date | A minimum of 3 months from now |
Description
Description
Qwin PeptiPlus sports drinks is revolutionary among other sports drinks. With PeptiPlus, NutriSense unchains a new generation of sports drinks with performance and recovery improving properties. Previously, there were separate sports drinks and recovery drinks. Qwin PeptiPlus sports drink is an all-in-one sports drink however. This sports drink was designed in collaboration with scientists and pro athletes. The result was a unique formula with specially treated proteins, carbohydrates, and natural glutamine. This is the base for one of the most innovative sports drinks available right now.

Qwin Peptiplus improves performance and reduces the feeling of fatigue by supplementing carbohydrates and proteins during exercise. The proteins in the PeptiPlus Sport Drink come from a vegetable protein hydrolysate that consists of split proteins. Protein hydrolysate digests more easily than protein isolate. As a result, the proteins are absorbed more quickly by the body. This is ideal during the endurance exercise, when a quick gastric emptying is vital. The intake of proteins during exercise stimulates the maintenance of muscle mass and the recovery of damaged muscle fibres during and after exercise. In addition, PeptiPlus contains naturally present Glutamine. Glutamine belongs to the category of amino acids and therefore forms the building blocks of a smooth recovery. Glutamine is an important building material for muscle growth and muscle recovery and contributes to the support of the immune system. Glutamine is the most common amino acid in the human body and can be produced by the body itself. However, Glutamine is mainly stored in muscle tissue, so that during heavy physical exertion a shortage can quickly occur. The supplementation of glutamine therefore makes an important contribution to a good recovery process.

NutriSense Qwin PeptiPlus gives you the key to maximum performance.
Read more